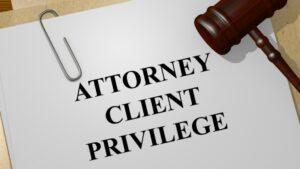 Attorney-client privilege: Is everything I tell my lawyer secret?
With the FBI raid on a high profile attorney in the news, you may wonder about your own attorney-client privilege.
Is everything you share with your lawyer secret? Could she tell your family something she thinks they need to know about you? Could he be forced to testify against you or turn over your records to the authorities?
Almost always the answer is no. Laws and ethical rules protect the secrecy of your dealings with your lawyer. And, it's very important to take advantage of those attorney-client protections to tell your attorney everything they need to know to represent you. There is nothing that will hurt your case more than allowing your attorney to be blindsided in court or negotiations by something you were too embarrassed to tell him.
And yet, sometimes the answer is yes. There are exceptions to the rule that your attorney cannot be forced to give testimony against you or cooperate with authorities.
Crime-fraud exception
You cannot expect secrecy when you consult an attorney with the intention of committing or covering up a crime or a fraud. For instance, sharing plans to take your children in contravention of a court order would lose the protection of secrecy.
Other exceptions
There are a few other situations that keep your conversation and documents from being protected. As an example, you aren't protected if you walk up to a lawyer at a party and tell her about your case. First, talking with a lawyer with others present takes away the right to secrecy. Secondly, casual conversations are not legal consultations. Both the client and the lawyer must agree that they are in relationship.
Another example of communications that are not privileged would occur if you were consulting Norm Short about starting a new business. The discussion of the various options for business structures is privileged. The privilege ends, however, at the point where you start discussing practical tips that he's learned over his more than two decades working with businesses. You are no longer discussing the law and its application to your business.
Ask your lawyer, if you have any question about whether a topic is privileged.
What about free consultations?
Movies often depict a lawyer who is taking on a client pro bono (at no charge) asking for a dollar to seal the deal. The implication is that money has to change hands before attorney-client privilege applies. That is not true. Feel free to discuss your case in detail during a free consultation. That is the only way that the lawyer can give you the best advice.
Violating confidentiality
The attorney-client privilege applies mainly to dealings with police, prosecutors, and courts. None of these institutions can compel your lawyer to tell them anything privileged. Yet, there are plenty of other situations in which you want your lawyer to keep your business secret. In general, your lawyer must keep your dealings confidential. The ethics rules governing this are complex, but here are some exceptions.
Unless you specifically forbid it, your lawyer may discuss your case with other lawyers in the firm. In law firms like ours with several lawyers with a variety of legal experience, you benefit from collaboration among our lawyers.
Your lawyer may reveal protected information to save you or others from death or great harm.
Likewise, your lawyer must reveal the fact that you are in the process of committing or about to commit a crime or fraud that will result in severe financial harm.
Your lawyer may consult a lawyer experienced in the rules of ethics about your case, if necessary. The consulting lawyer must also keep your information secret.
If your lawyer is charged with misconduct in representing you, she may reveal as much as is needed to defend herself.
Finally, if you have any concerns about confidentiality, talk frankly with your lawyer about them.